Facilitation
Strategy
Team dynamics and creating effective teams
Change and transformational management
Planning and strategic development
Unpacking and improving processes
Project management
Align groups to company vision, mission, values and strategy
Customer awareness
Conflict resolution
Creating learning organisations
Organisational Development needs analysis
Organisational Development transformational plan
Coaching
1 on 1  and group coaching in areas identified through transformation change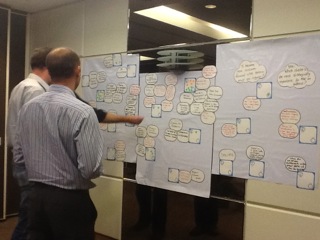 Participlan facilitation training and supplying Participlan stationery
Training for new facilitators
Training for intermediate facilitators
Training for advanced facilitators
General skills training
Call handling
Time management
Managing behaviour and developing emotional intelligence
Leadership and management
Facilitation
True facilitation is an art and an acquired skill. The role of a facilitator is not to share the facilitator's knowledge or opinions but to create a positive, non-threatening and engaging environment for the free flow of ideas and constructive discussion. It is remaining objective at all times, ensuring all voices are heard, conclusions are reached and action plans are implemented.
Participlan
Participlan is an extremely versatile and unique facilitation method. It allows for equal group involvement, accelerated decision-making and positive interaction.
The visual mapping format, which resembles a sophisticated version of the 'sticky notes' process, offers a wide range of tools and techniques.
The robust process allows individuals to feel heard, groups to challenge ideas and to confront issues in a secure and trusting space. The group generates the information and therefore the group owns it.
There are very few facilitators in the world that combine energy, the ability to drive a process, ensuring every person is engaged and participates and above all has fun! Lyndall has all these qualities. We have co-facilitated group sessions on many occasion and she builds rapport very rapidly… equally with staff and leadership.